Free Facebook Downloader,Facebook Music Converter Freeware
Convert Facebook Videos to MP3,M4A,FLAC,AAC,WMA,WAV,OGG Formats
Facebook is the most popular social website where you can share your opinions,musics,videos,pictures with your families and friends.If you are a Facebook lover, you will usually find some interesting videos or musics on your friends' pages. But how to save these musics or videos on your local hardware?
Here we will give you a brief introduction of Any Audio Converter Freeware which can help you download any videos, musics from Facebook and convert Facebook videos or musics to MP3,WMA,WAV,M4A,AAC,FLAC,OGG formats.
Howto
Facebook Video/Music to MP3
MP3 stands for MPEG-1 Audio Layer 3,which is designed by Moving Picture Experts Group.MP3 file is a highly compressed audio format,eg,a typical 3 minute song file is about 3.5MB, can be downloaded in less than 10 minutes over a 56K modem connection. MP3 format is common used in almost all popular portable devices and mobile phones because of its highly compressed feature.
What Any Audio Converter Freeware can do for you?First of all,Any Audio Converter Freeware is a free facebook video downloader.You can easily download any facebook video with few clicks.Secondly,Any Audio Converter Freeware is also a facebook video to audio converter,so that you can convert downloaded videos to MP3 format with fast speed and high quality.
The only disadvantage of current version is that you are not allowed to edit the ID tags for the converted MP3 files.But we are planning to add this feature in next version ASAP.
More about how to convert Facebook to MP3.
Facebook Video/Music to M4A,AAC
M4A file is an audio file encoded with advanced audio coding (AAC) which is a lossy compression. M4A file stands for MPEG 4 Audio.AAC or M4A file quality is better and file sizes smaller compared to MP3 files. M4A files sound better than MP3 files when encoded at the same bit rate due to some of the enhancements made to the format.
The programs that play M4A files or AAC files are iTunes,Quicktime, Windows Media Player, and Roxio Popcorn, Toast and Creator.And most Apple portable devices can also support playing M4A/AAC files,such as iPhone5,iPad Mini,iTouch etc.
Any Audio Converter Freeware supports both M4A and AAC audio formats as output.So after downloading facebook videos,you can quickly convert facebook videos to M4A or AAC formats by selecting M4A or AAC option in the profile dropdown list.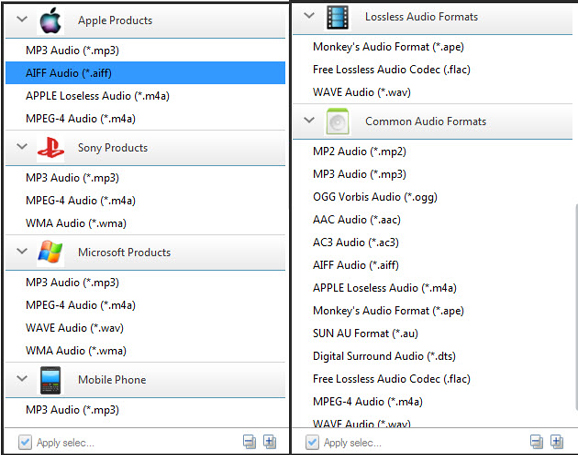 Facebook Videos to FLAC,WMA,WAV,OGG Formats
From the screenshot above,we can see that Any Audio Converter Freeware also supports converting Facebook videos to FLAC,WMA,WAV,OGG formats.What's more,Any Audio Converter Freeware can also download YouTube videos, metacafe videos,vevo videos,dailymotion videos,break videos and liveleak videos.