Home > Audio Converter
WMA to MP3 Audiobook Converter - Convert DRM WMA to MP3
Today, WMA format, often used for storing recordings such as audio books, is a common file type on PCs and Windows-supported devices. The WMA format closely resembles the more prevalent MP3 audio format, the most popular file container for online sharing and downloads. Audiobook downloaded from online libraries such as OverDrive, leading digital media services, are saved as DRM protected WMA files. These WMA files can be played on a limited number of compatible players and software. But if you want audiobooks on your own player, then you will need to install this WMA to MP3 Audiobook Converter and convert them to audio format of your choice.
WMA to MP3 Audiobook Converter is an easiest way to strip DRM protection and convert Overdrive WMA files to MP3, WMA, or WAV format. You can adjust compression quality saving plenty of disc space as spoken word audio files don't need 256-320kbps bitrate. WMA to MP3 Converter software will convert your OverDrive audiobooks in multiple conversion mode saving your time. This program helps to bypass the DRM restrictions for you to play audiobooks without a glitch on iPod, iPad, iPhone, Creative Zen or any other digital player/cell phone that won't handle DRM-protected WMA audio format. Right after conversion you can import the output folder to iTunes, and transfer OverDrive audiobooks to iPod, iPhone, iPad. It's fast and easy!
Apart from OverDrive WMA conversion, this application will work with any purchased or legally obtained Windows Media Audio audiobooks. Here's the list of supported online music download services: Napster, Rhapsody, Nokia Comes With Music, Kazaa, iMesh, BearShare, and many others. You will easily convert Audible and iTunes audiobooks either.
WMA to MP3 Audiobook Converter
Convert DRM protected WMA audiobook to MP3, WMA, WAV audio formats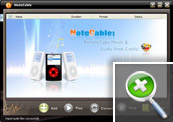 In spite of WMA to MP3 Converter software simplicity, it still has all essential features included. Multiple conversion mode allows parallel conversion with up to 15 files running at the same time. Just download more and more new OverDrive WMA audiobooks to a selected folder on your computer and run WMA to MP3 Converter software. Then drag and drop WMA files to the program to start encoding automatically.
Supported input audio formats: M4P, M4B, M4A, AA, WMA, RA, OMA, MP3, AIFF, WAVE, OGG, APE, FLAC.
Supported output audio formats: MP3, WMA, WAV.
Features of WMA to MP3 Converter
* Converts & records WMA, M4P, M4A, AA files to new MP3, WMA, WAV files
* Converting of audio files: intuitive, easy, fast and high quality
* Background mode recording; Batch mode for converting large song collections
* Automatic configuration of recording level and device for analog copies
* Normalization of recordings to ensure uniform volume level
WMA to MP3 Converter is compatible with Windows XP, Vista and 7. Download and install NoteBurner free trial versions to free your DRM WMA music now! If you only get a Mac, please click here to get a powerful WMA to MP3 Converter for Mac application.
More than a WMA to MP3 Audiobook Converter
Besides converting WMA to MP3, WMA to MP3 Converter is also able to convert any given audio format, such as M4B, MP3, rax, MP4, WAV, RA, SND, OGG and AIF, to MP3, WMA, and WAV formats. You may custom the output options to meet your purpose.
All you want to do is to install this full-featured WMA to MP3 Converter, and it will help you to convert WMA to MP3 or whatever format you want. This software is especially useful for those people who prefer to control process of music file conversion from main program window. You don't need to browse through lots of option dialogs, checkboxes, drop-down lists with weird looking settings to get this program working. Just select your WMA file, set output file name and press Convert button. You can also convert MP3 to WMA, MP3 to WAV or even M4P to MP3 in the same way.
"Hearty congratulations to the designers of this fantastic utility!! I've been waiting a long time to 'free my OverDrive' to use on my iPod Touch, and the only way I could do it before was to burn to CD then rip back again. A very lengthy process, which normally ended up full of faults and a lot of wasted disks!! Not any more!!" -- Comments from David Bower
How to Convert OverDrive DRM WMA to MP3, WAV and DRM-free WMA
To convert OverDrive DRM WMA to MP3, WMA or WAV format with WMA to MP3 Converter, you must make sure your DRM WMA files are playable on your computer, that is to say, your computer has been authorized to play, sync and burn these audiobooks.
1. Download and install WMA to MP3 Audiobook Converter
2. Click Add button to import WMA files from your hard drive to the program.
3. Click Setting button to choose output folder and output format.
4. Hit Convert button to start converting WMA to MP3.
5. When the conversion is completed, simply unfold Converted folder in the left panel to get the output files.
Now, you can enjoy your DRM protected WMA files on any media players and portable devices such as iPod, iPhone, iPad, PSP, Creative Zen, Sony Walkman, Archos, cell phones and any other PMPs and MP3 players.
Related topics:
How to convert aac audiobook to mp3 format with AAC to MP3 Audiobook Converter?
How to convert aa audiobook to mp3 format with AA to MP3 Audiobook Converter?