Free APE CUE Splitter ---- APE CUE to MP3 Converter
Have lots of long podcasts, music, songs in MP3, WAV, APE or FLAC and want to split or cut them into shorter tracks? If your audio file have a CUE associated with it, splitting your music files will be much easier by the help of the smart Bigasoft CUE plitter for Windows. Are you worried about that the album is one APE file and one CUE file when you finish the album downloading? You probably want a separate APE file for each song.
I decided to transform my CD collection to digital files for better management. At the time, I am unfamiliar with different file structures so each CD was ripped into one APE file with CUE sheet. Is there any software in term of sound quality can split single APE file into individual songs
The Any Audio Converter is also an advanced APE CUE Splitter, is the versatile APE CUE Splitter software for you to split a long APE file into individual songs. Slice packaged APE file to separate ones according to CUE file, and cut them down to other formats, including MP3, WMA, APE and WAV. Information in CUE file is written to MP3 and WMA files's tag.
This article will introduce a professional CUE Splitter for Mac or Windows version as well as describe a step by step guide on how to split CUE associated FLAC, MP3, APE, WAV, WMA, TAK, MPC, TTA, M4B, M4A, AIFF and etc album, podcast or compilation into separate audio tracks. Just simply download and have a try. Here is also tutorial about how to convert CDA to MP3 format.

Tips
What is CUE?
CUE file is the index file associated with APE file, if there is no CUE file, it can't select the song when playing APE file. Open the CUE file with Notepad program, you will find that it records the singers of entire album in APE files, album name, APE file name, track number, each track title, artist, start time and end time. Thus it is so important for you when you want to burn CD with the APE file.
To split single APE file into individual songs, we should need the CUE file for help.
To work with music tracks on your CD you need first to convert them to WAV, MP3 or another file format that computers understand. That's what a CD ripper does and that's why you must use a ripper before you can work with your music files on a computer.
What about DVDs?
The DVD format was developed in the computer age so DVDs contain regular files just like those on your hard disk. That means they can simply be copied from the DVD to your computer.
Why we need a DVD ripper?
The reason people use a DVD ripper is usually to remove copyright protection so that the movies or files on the DVD can be played on their computer. DVD rippers also commonly allow users to compress the data or change its format so the DVD files take up less room on their computer.
In other words CD and DVD ripping programs do rather different things:
CD rippers convert the raw digital data on music CDs into files a computer can read. They don't have to worry about copyright protection as most music CDs are not copy protected.
DVD rippers are designed primarily to copy files from DVD and strip out copyright protection in the process.
The APE CUE Splitter Any Audio Converter is completely free of charge to rip your .cda files to mp3 format. 100% Free and Legal.
How to Convert CDA to MP3 with APE CUE Splitter?
1. Add CD. Run the APE CUE Splitter, put your audio CD into your computer's CD drive. Click

button and select disc, then click

button to load CDA files from your audio CD to the CDA converter.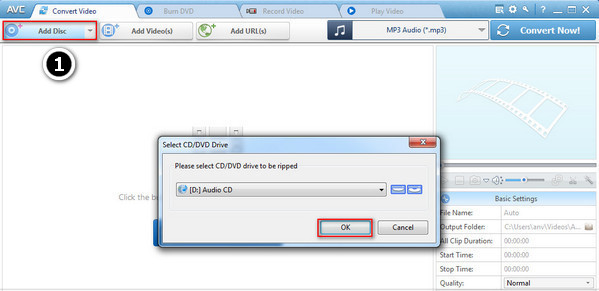 2. Add CDA Files. Check the cda files you would like to convert to MP3 and then confirm.
3. Set Output Format.
Click

and choose MP3 Audio(*.mp3) from drop-down list according to your device.

4. Choose Destination.
Click

and select a folder for saving the output files in the dialog that opens.
5. Start Converting.
Click

button to start converting all CDA files to MP3.
6. Find Output File.
Click

button and find the output MP3 file.
Tips:
1. If you would like to import the output mp3 file to your apple products, such as iPad, iPhone, iPod, the free Syncios iOS Transfer would help you. All without iTunes.
If .cue files are already associated with a program on your PC, open the .cue file with Medieval CUE Splitter, when you're ready to split the large .ape file into individual tracks, click the "Split" button in the bottom right corner of the window.
Tags
CUE Splitter | Windows CUE Splitter | Split APE CUE | CUE to MP3 Converter | CUE Splitten | Cut APE CUE |

Powerful iPad, iPhone, and iPod transfer tool which helps you easily transfer and backup music, video, image, E-book, apps and more from iPod/iPhone/iPad to PC, or from PC to iOS devices.

An all-in-one iTunes Audio Converter to convert DRM-ed Apple Music files, audiobooks, and m4p audio to unprotected MP3, AAC or WAV at 20X faster speed with lossless quality.